MA Communication Design students on their myShakespeare experience
Three Central Saint Martins MA Communication Design students who worked on the myShakespeare digital project for the Royal Shakespeare Company (introduced here on the blog last week) describe their personal experiences.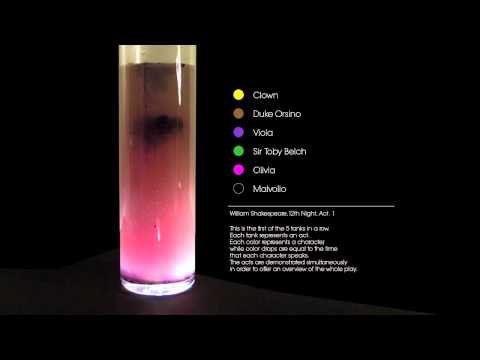 Konstantinos Mouzakis – Coloured Water
"Coloured Water" consists of my personal approach to visualising the theatrical play of William Shakespeare, "Twelfth Night". As I started studying the play, I soon realised that I had to deal with a really complex network of emotional relationships. Since my latest work is related to social networks, I decided to come up with an alternative way of visualising the play in real time (instead of using actors). In the beginning, I experimented with how volumes of different objects, like balloons, interact trying to demonstrate the emotional mess. Then, I found out that using ink in water could provide a very accurate illustration of the emotional axis. Thus, my brother Nicolas as a pharmacist, helped me to find the most convenient ingredients which could control the spread and the speed of each colour in the water. Moving on, it was about time to get a precise ink flow on demand and that became possible by setting up a system of motorised syringes controlled by a microprocessor. After that, I "translated" the emotional meaning of the words into numbers in order to be readable by the microprocessor. Finally, I decided to have one tank per act and one colour per character, while the ink's flow was set up according to each character's speaking time. The final artwork offers to the audience a realistic overview of the whole play, while it unfolds in a totally unique way."
Kate Brangan – Shakespeare by Chance
I still have a lot to work out in terms of the user experience and interaction with the site, but I'm interested in the idea of the words Shakespeare used at a certain time, in a certain context, and how these words are now used in our age. In the example I used the word 'upon' crops up. The image ranked number one in Google images at the time of my making the first experiments and example show here was an image tagged Stratford upon Avon. However rather than it being related to Shakespeare, the image is in fact for Strafford (sic) Upon Avon Limo Hire (image attached – on looking again today it is actually in second place). The idea for the project is summed up by this example! Just being able to see the stark contrast of what appears to be of higher importance to us, the public, in this day and age.
The project is not intended to be a critique of our interests in the modern age – it's an observation of how our interests slowly change over time. It is also meant to represent the idea of how we the public are in charge of how Shakespeare's work gets used or translated to audiences now. As the man himself is not here to control the terms of use of his work, they can be adapted in anyway we might decide. This is then echoed by the fact that the content visible on the site on any one day is completely generated by the public's unintentional usage of popular images and therefore, as creator of the site, the control over the visual aspect of how it appears is out of my hands.
Ophelia's Skull by Owen Woonyung Lee

The purpose of Owen's project was to re-code the character, Ophelia, from Hamlet. A plaster skull, found and bought from the Globe Theatre's prop department, proved the basis for this. Owen decorated the surface with poetic sentences from the scene of Ophelia's death; musings on the melancholic beauty of death, to contrast the straightforward prosaic skull. He set up a 20-note hand-crank musical box that plays a Renaissance melody and rhythm, which he composed himself after analysing the 16th Century lute music of John Dowland (England, 1563 – 1626). Owen's objective was to interactively deliver synesthetic images to the audience with visuals, sounds, textures, scripts and materials. Much thought, design and experimentation went into creating the final piece, as Owen reveals here, and the experience also proved to be an educational and formative one. So much so in fact, that he is setting to work on a sequel, Claudius' Hand.
How did you feel about Shakespeare at the start of the project?
I thought about it deeply as I'd almost forgotten the stories of his plays.
When I read Hamlet for the first time, I was a high school student. Of course, I was not very mature to understand his plays properly, and didn't get the beautiful, exceptional expressions. Unlike in the UK, in my country, Korea, he was not so important – although we knew him as one of the best playwrights in the world.
So, I had to read his pieces again thoroughly, and realised that understanding old-fashioned English was very hard. I read it with a Korean translated version at the same time, which was really precisely translated by a renowned Shakespeare scholar in Korea.  In the end I felt that as an international student, to understand Shakespeare fully was almost impossible, so I focused on the re-interpretation of characters rather than analysing literature.
Ophelia's Skull actually polarises audiences. Some people who have a serious literary criticism don't see the depth of my work, but others really like my visualisation and multi-sensory interpretation.
What were your inspirations for the final idea? 
It happened almost out of the blue. I was so worried about this project and so I went to the Shakespeare's Globe to get some ideas and inspirations.
There, I found a skull made of plaster, which was being sold as a souvenir by Hamlet's fanatics. Actually it was Yorick's but I was instinctively fascinated by the shape and expression as a human skull – not only as a prop used in Act 5.
In the medieval age, many people died by famine, disease, suicide, murder and war. Death was not as much a scary and scarce notion as nowadays. Here and there, people used to see the dead bodies on the street, and bury them underground.
Ophelia is a main character, but she doesn't seem to play a very important role, although she is in the core of the storyline. She is a Hamlet's lover and beautiful, poetic, and is good at playing the lute and singing a song. In fact, the main conflict structure of Hamlet is between Claudius, Gertrude and Hamlet.
The emotional conflict is a key thing, and Ophelia is just a victim of the conflict, delivering the mood of melancholia and tragedy. However, she also contributes as being a victim for the audience to realise the meaningless of life focused on success, ambition and greed – and the sins of human beings. So, that may be the reason why many artists are interested in the character. However, many artworks about Ophelia are yet limited in depicting the scene of her death from drowning. The lyrical but unrealistic description of Gertrude is a main ingredient of artists.
Aside from the beauty of the literary expression, I wanted to convey the contradiction of life and death through the character, Ophelia; Hamlet says even queen and king are supposed to be ugly skulls in the end. The beautiful Ophelia is also to be just a skull in the end.
While I was reading though the script and seeing films of the play, I thought that I wanted to converge many senses on a single object, a skull, which is simple, easy and yet very strong and eye-catching. Music, sound, kinetic movement, tactility and different materials passed though my mind.
The 20-note musical box was an effective tool to appeal people with a melody and sounds; the sound of a musical box is similar to the sound of a lute. It is interactive and easy to use, and feels nostalgic. One of my audience told me that it reminded her of 'automata', which are kinetic toys invented and popularly used in the 16th, 17th century.
Fortunately, I am skilled in multi-disciplines such as composing music, sculpting and Graphic Design. As I'm a designer, I tend to concentrate on the concept and final goal of a work unlike a fine artist. That might make some difference from fine artist's works. Clarified but lyrical and poetic messages were intuitively intended.
Additionally, finishing was also of importance to me.
What was it liked working directly with the Royal Shakespeare Company?
Early this year, in January, as soon as we came back to the spring term, we had an opportunity of an exhibition on The Street, CSM campus. It was a work-in-progress exhibition but I had already done my project by the time.
I had planned all the display of the exhibition before I came back to London, and installed it with a making film and detailed scripts of the scene. Lighting and the skull with the wooden container were well matched to the site. Fortunately, the work was displayed in the front of the site and could be viewed a lot by many people. Sarah Ellis, who is working for the RSC, showed a lot of interest in my work and it was a good chance to appeal to them.
We had an official presentation once, and honestly I didn't need much effort to pitch it to them because my work had already been seen, and in the presentation, the fact that it was so simple and intuitive but well made and delicate appealed.  When I played the musical box, the RSC liked the way of playing it and the melody.
The making film is not enough to deliver the feeling. This work should be seen in person and people should crank the musical box to feel the work deeply. Tactility and tangibility is key in my work.
What have you taken from the experience?
When I started the project, I was very anxious because I had been only a Graphic Designer for 10 years before I began this project. But I found a lot of enjoyment in doing this, and also found my other talents and potentials for sculpting and Interaction Design. At the time, I was totally engrossed in making the sculpture, so I didn't realise that I spent the whole holiday doing it without taking a rest at all even though I was in my hometown!
Now, I feel thankful to this project that woke up my hidden interest and talents. I think that this is only a start of my second stage as a Communication Designer. Now, I've been doing a few more projects and I'm far more enjoying this kind of project than before.
In your wildest dreams, where and how would you like to exhibit Ophelia's Skull and Claudius' Hand?
When I showed this to one of my friends, who is now a professor in my ex-university in Korea, he questioned: "interesting! Why do you try to go back to the past? Everyone would like to learn more about the technology and mobile media design, while you are more interested in old-fashioned media". It provoked me in a positive way. I think that the more technology advances, the more we feel hunger for humane and analogue taste.
I loved the way I presented Ophelia's Skull at Central Saint Martins. I'm supposed to exhibit this once more in August with other peers' works as part of World Shakespeare Festival. I haven't disclosed a sequel, Claudius' Hand. But it has been almost 90% done.
Personally, Ophelia's Skull just opened my new vision of my work even though this is probably seen as small and mediocre to professional artists. All of this wouldn't have happened to me, if I hadn't come to London. I hope to advance myself with what I can really enjoy and love, not with just anything getting me successful.
Wednesday, May 30th, 2012
Tags: 2012, Central Saint Martins, Cultural Olympiad, London 2012, MA communication design, myshakespeare, royal shakespeare company, students, world shakespeare festival
Posted in 2012, Cultural Olympiad, Stories, Uncategorized, University | No Comments »